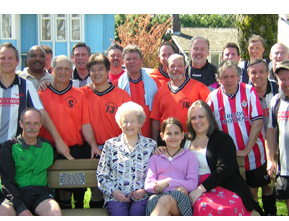 click on photo to enlarge
Len Wilkins 1925-2003
On Sunday April 11th, 2004 a memorial game was played at South Arm in Richmond to mark the official unveiling of a bench overlooking the football field where Lenny could always be found kicking a ball around, even in his 70's, always proudly wearing his red and white striped Southampton shirt. His wife Jean attended the memorial game and she thanked everyone who took part, while sitting on the bench that bears the name of her late husband.
An ex-professional and former captain of Southampton FC, Leonard "Lenny" Wilkins, passed away at the age of 78. He was a much beloved player and coach, and a mentor to many aspiring players in Canada.
When Southampton FC relocated to the new St. Mary's Stadium, a building on the grounds of the former The Dell Stadium was named The Leonard Wilkins Building in recognition of his service to the Saints.
The bench was the result of a fundraising drive initiated by his fellow players at South Arm. The plaque on the bench reads "LEONARD 'LENNY' WILKINS (1925-2003) WHOSE PRESENCE GRACED THESE FIELDS INTO HIS 8TH DECADE. AN INSPIRATION TO SOCCER PLAYERS OF ALL AGES."
From "In That Number" - a post war chronicle of Southampton FC.
Leonard Wilkins
5'10" 12st 0lbs
Half Back 1948-58
b. Southampton 20 Sept 1925
d. Canada Aug 2003

Career: Shirley Warren School / Cunliffe Owen / Southampton FC Oct 1945 / Ontario All Stars (Canada) Apr 1958 / San Pedro Canvasbacks (LA) Apr 1959 / Los Angeles All Stars 1959 / California All Stars 1960 / British Columbia All Stars 1961 / Vancouver asst coach 1965 / Richmond Over 40s

Debut: v Leicester City (h) 23 Oct 1948
Last: v Watford (h) 5 Apr 1958

Ex-Saints Arthur Holt, who played with him during the War, has been credited with bringing Len Wilkins to the Dell. But Mr. Cosgrove, a Saints director, has claimed to have "spotted" him playing on the Common. Len duly came through the ranks to make his debut in the game in which Charlie Wayman snatched all the headlines, with his five-goal haul.
Whole-hearted, Len never spared himself on the field and became a valuable link in the Saints' defence for nearly a decade. A vegetarian in the days when such dietary habits were rare, Len became known as "Spud" although others referred to him as "Dusty".
Despite his fondness for potatoes, he was agile and adaptable enough to play in any defensive position and was a natural choice for team captain in 1954. Len became very popular with the fans and when he left the pitch for the last time, having already announced his decision to emigrate to Canada, he received a rousing standing ovation.
Once in his new home, Len signed for his local soccer team and generally strove to raise the profile of a sport that was still very much in its embryonic stage in Canada.
In 1958 he was in the Ontario X1 that took on Don Revie's Manchester City and also played the Mexican national team on their way to the 1958 World Cup. In 1960, having moved to Los Angeles, he represented California in a game against Manchester United.
Five years later, he moved his family back to British Columbia and contined to play in an over-40s league well beyond his retirement age. His periodic visits to Southampton included the Ted Bates celebration in 1993 but he could not make the 1998 launch of Ted's biography.

Southampton FC:
League Appearances 261, Goals 2
FA Cup 14 Appearances, Goals 1
TOTAL 275 Appearances, 3 Goals